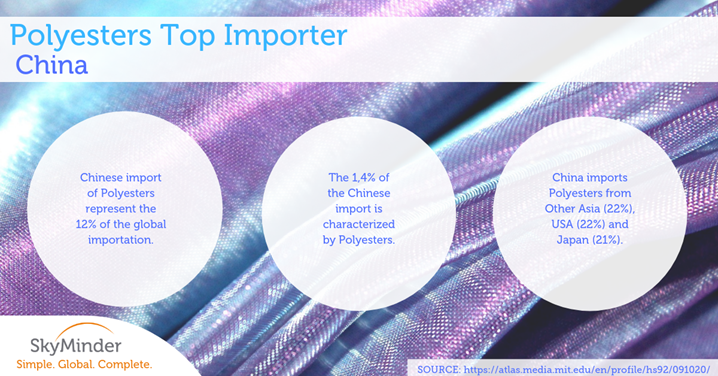 Polyesters in primary forms are the 303rd most traded product
The top exporters of Polyesters are the United States ($1.37B), trading principally with China (18%), Mexico (17%) and Netherlands (13%). Other exporter are Germany ($1.29B), China ($796M), Other Asia ($685M) and the Netherlands ($603M).
The top importer of this good instead is China ($1.1B), followed by Germany ($916M), the United States ($505M), Italy ($425M) and France ($412M).
The 1,4% of the Chinese import is characterized by Polyesters.
Chinese import of Polyesters represent the 12% of the global importation.
China imports this good from Other Asia (22%), USA (22%) and from Japan (21%).
SkyMinder helps you in your international business and in better knowing your potential partner or supplier. Check our business information platform: Contact us