Studio Pagamenti 2020 - Cash Management and Covid-19: the effects of the "first wave"
Studio Pagamenti 2020 - Cash Management and Covid-19: the effects of the "first wave"
In Italy, +21% in serious delays compared to December 2019 but companies invest in their "ecosystem of relationships".
Studio Pagamenti 2020 has been a crucial appointment to discuss about data on companies' payments, essential information to monitor their state of health, especially this difficult year not only for Italy, but worldwide. The over 1500 CEOs, CFOs and Credit Managers who followed the event in streaming testify this.
In recent months, CRIF has recorded information that confirms the overall difficulty in terms of economy and businesses, especially in some sectors.
In June 2020 in Europe, we immediately noticed a slight deterioration in the performance of payments on maturity, particularly in countries such as Ireland (-17%), Romania (-7%) and Spain (-3%), where a completely different payment reminder and management activity is needed.
Considering the trend in late payments over 30 days in Italy, it is possible to notice a stabilization in late payments of around 10%, over the past years. However, the Q3 2020 has registered a 21% growth in serious delays compared to Q4 2019.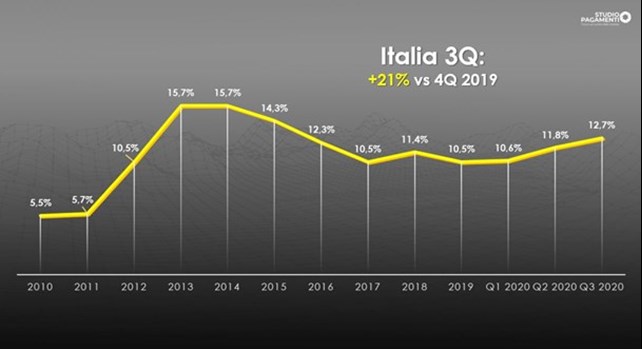 Payments: serious delays trend - 3Q Italy
Source: Studio Pagamenti 2020
Regions that have undergone the highest percent variance compared to the last 2019 quarter are Valle d'Aosta (+40.4%), Friuli-Venezia Giulia (+37.5%), Veneto (+32.6%) and Trentino - Alto Adige (+31.6%), which is the region with the least serious delays (6.7%), after all. On the other hand, although starting from an absolute higher level, the south regions presents a more controlled increase in delays over 30 days.
Compared to the previous quarter, the North East and North West of Italy recorded the highest increase in serious delays (10.4% and 11.8% respectively). However, once again North East affirms itself as the most reliable area, with 43% of companies paying on time. On the contrary, in the South and the Islands, where only 22.6% of companies make timely payments, there are more difficulties.
So far data are predictable, but compared with recent years, they should make us think about how to react and manage this situation.
It is clear that the effect of COVID - 19 has had consequences on the liquidity of companies, above all. This is a key theme and a matter of concern. Companies in Lodi (+55.7%), Asti (+53.8%), Pordenone (+50%) and Belluno (+50%) have recorded the greatest deterioration in payments over 30 days, compared to the end of 2019. The fact highlights a close link between COVID crisis and liquidity problems.
Never like in the first months of this year has it been clear to everyone in Italy that the liquidity of companies is a central issue and we have always highlighted it as an indicator of a company's state of health.
 A lack of liquidity means a slowdown of the payments and if they slow down, there will be a knock-on effect.
In the last editions of the Studio Pagamenti, we gave a snapshot of Italy as a country with an upward trend. Today we all are in the same great uncertainty, but with a common inevitable result: we should expect important effects for insolvencies, both in the next months and year. It is evident that such a difficult situation is requiring hard work for companies, and probably the bulk of the effort is still to come. Therefore, we need to pay even more attention; more proximity to our clients/suppliers is required. Moreover, we need to prepare all the necessary tools to prevent crises.
Notwithstanding this, there is still a positive sign that we see in companies, especially in the most virtuous ones: a strong investment in their ecosystem of relationships with customers, suppliers, distributors and partners. This is a pivotal approach for company life and survival. Improving "connection" with customers has always been important, but it will be an asset to be cared for and monitored in the coming months even more. During lockdown indeed, many companies have helped customers by lengthening deadlines. Such a "deal" with customers and suppliers is probably the key to overcome the crisis, of course without lowering the guard on overdue and unpaid.
We need to restart and if we proceed with a great attention to these issues, it will be a virtuous process for everyone.