GUANGZHOU, JUNE 21, 2019
CRIF at the 8th China (Guangzhou) International Finance Expo
On June 21, CRIF participated in the 8th China (Guangzhou) International Finance EXPO as the strategic partner of Guangzhou Civil Finance Street Credit Bureau Co. (GZCCB).

The event was part of the China Import & Export Fair and took place at the exhibition center in Guangzhou. GZCCB was invited to attend and exhibit by the Guangzhou Micro Finance Industrial Association. During the opening ceremony, ZhiYing Chen, Deputy Mayor of Guangzhou, delivered a speech stating that in 2018 the size of the lending in the Guangzhou Finance Industry reached 207.9 billion CNY. The initiatives carried out by the China (Guangzhou) Finance Expo have been extremely valuable in supporting financial development in the region.
On the 1st day of the Expo, Vincenzo Resta, Regional Executive Director of CRIF (GZCCB's strategic partner), gave a keynote speech on "SME & MSME Assessment" on the Zone 12.2 Exhibition Stage. He explained how CRIF leverages innovative approaches to empower SMEs & Micro SMEs to access financial facilities.
"In Europe, the introduction of the Payment System Directive 2 (PSD2) has ushered in the era of Open Banking, providing a whole new set of payment data that individuals and SMEs can make available to third parties. At CRIF, we have designed solutions to leverage this data for credit evaluation. This is especially relevant for SMEs that are new to credit and for which an appropriate credit evaluation is not possible through traditional means. Just like we have been able to analyze the legal context in Europe to find innovative solutions, CRIF and GZCCB will provide innovative solutions in the Chinese market to help lenders evaluate SMEs by using all available data, ensuring more SMEs can access credit while lenders can better manage the associated risk", commented Vincenzo Resta.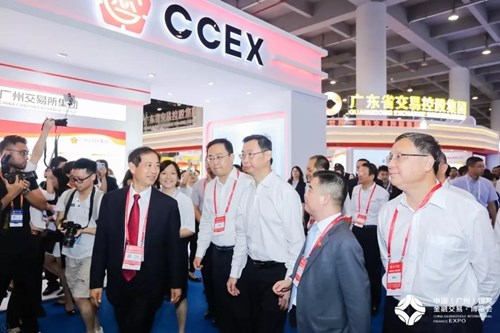 Guangzhou Municipal Officers talk to Mr. Ma Chung, Chairman of GZCCB (2nd from the right)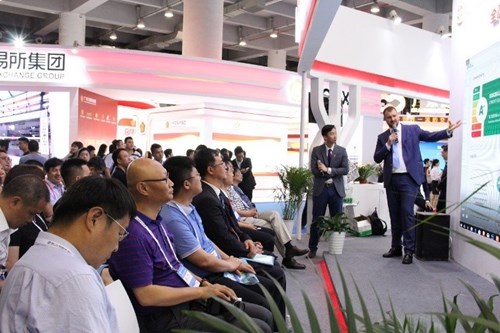 Vincenzo Resta addressing a capacity crowd at the Expo while illustrating case studies of SME evaluation in Europe.